Welcome to the National Club Football Association.
The National Club Football Association (NCFA) is the only CollClubSports sanctioned inter-collegiate club tackle football league in the United States.  We are driven to provide collegiate student-athletes with the opportunity to play competitive, organized college football, and to continually improve this experience for all participants.  We strive to accomplish this by building lasting relationships based upon trust, commitment, dedication, understanding, and strong lines of communication.
Thank you for being a fan of the NCFA.
The National Club Football Association is a division of CollClubSports.
Offensive Player of the Week
Terrence Sudberry - #11
The Apprentice School
The Apprentice School's very own Terrence Sudberry took home the 2018 NCFA National Championship Game's Most Valuable Player! He was an unstoppable force on offense, as his arm AND legs were used to lead the Builders to their first National Championship. Terrence was 6 of 16 for 100 yards and 1 TD in the air, but also carried the rock 14 times for 150 yards and 3 TD's! He finished the contest with 250 all-purpose yards and 4 touchdowns!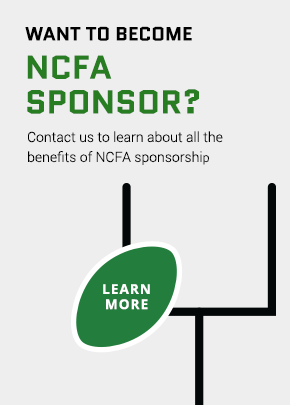 ---
---